We are proud to announce that Sensor Technology has successfully upgraded its ISO 9001 Quality Management System (QMS) to the latest edition of the standard, ISO 9001:2015.
Sensor Technology Ltd. is a quality-focused manufacturer. The components we produce—whether a piezoelectric ceramic or a custom sensor –often play a critical role in the systems our customers build.  So, the quality of our products is paramount.
Background: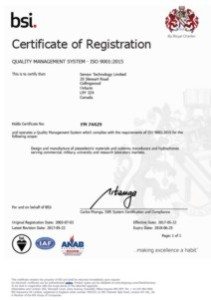 Founded in 1983, Sensor Technology Ltd. started out with a heavy focus on research work. As a result, most of our production focused on one-offs that met the unique needs of a single research project. Naturally, successful product function was important. However, the production process controls generally used for higher volume production were unnecessary.
By the end of the 1990's and into the early 2000's, SensorTech was transitioning away from the research projects and into higher volume, industrial production. With this shift came the need for process controls. To demonstrate our commitment to quality Sensor Technology obtained ISO 9001 certification in May of 2003. At that time the 2000 edition of the standard that was current.
We maintained our ISO 9001:2000 Quality Management System for 6 years and then upgraded to ISO 9001:2008 in November, 2009.
After another 6 years, in May of 2017, we upgraded again, to the current edition of the standard, ISO 9001:2015.
Outcome:
For some customers, regular supplier quality audits are a strict requirement of their quality systems. We welcome them into our facility for scheduled visits.
However, for many of our customers our ISO 9001 registration greatly simplifies their supplier audit obligations. For some, having a copy of our ISO 9001 registration certificate and a few of the documented procedures from our QMS, meets the needs of their own QMS. It provides the assurance they need to use Sensor Technology Ltd. as a qualified vendor. Moreover, it saves them from having to visit our facility to perform quality audits and reduces the QMS requirements to an annual paperwork review.
We are always willing to work with our customers to satisfy the needs of their quality management system requirements.
You can download a copy of our ISO 9001:2015 certificate here.