Hydrophone preamplifiers provide more than just signal gain.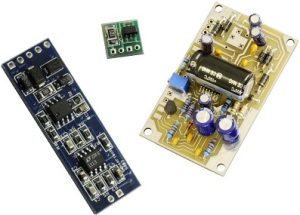 Piezoelectric ceramic-based devices, hydrophones included, have impedances that vary broadly and change dynamically. Our preamps provide an impedance matching network between the hydrophone and your electronics.
Our preamps can meet the needs of almost any project, with designs including:
Energy efficient (low voltage, low current) for battery powered applications
For ultra-low frequencies, an infrasonic preamp useable down to 0.2 Hz
Ultra-wide bandwidth design (Megaband) from 4Hz to 2MHz
Phantom powered preamplifier (creates an "electret hydrophone" for integration with consumer electronics)
We can modify existing models for your specific application or create fully custom designs. Contact us to discuss your requirements.