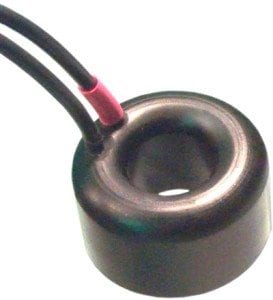 | | |
| --- | --- |
| TRANSMIT SENSITIVITY | 133 dB re 1 μPa/V @ 1 m |
| RECEIVE SENSITIVITY | -183 dB re 1 V/μPa @ 20ºC |
| RESONANCE FREQUENCY | 30 kHz |
| CAPACITANCE | 5.3 nF ± 15% @ 20ºC |
| OPERATING DEPTH | Unlimited |
TRANSMIT VOLTAGE RESPONSE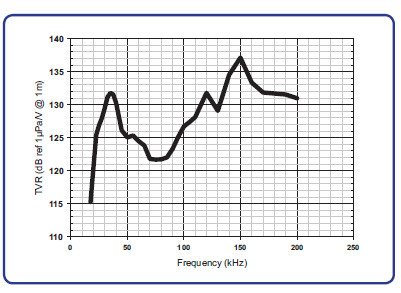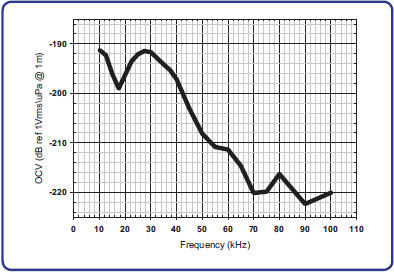 BEAM PATTERN AXIAL PLANE at 30kHz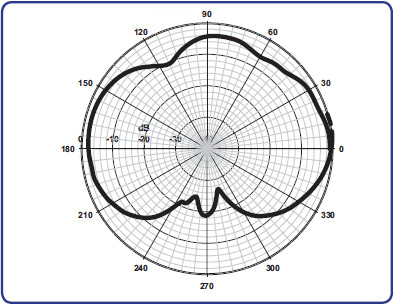 RESONANCE FREQUENCY
30 kHz
---
CAPACITANCE
5.3 nF ± 15% @ 20ºC 
---
OPERATING DEPTH
Unlimited
---
TRANSMIT SENSITIVITY
133 dB re 1 µPa/V @ 1m
---
RECEIVE SENSITIVITY 
-188 dB re 1 µPa @ 20ºC 
The SX30-FR transducer is made with a piezoelectric ceramic ring. The shape of the
piezo element balances pressure, resulting in virtually unchanged performance at
any depth. The SX30-FR offers transmit capability at a 30 kHz resonance with a
toroidal directivity pattern in the axial plane, and a wide usable bandwidth between
20-40 kHz. Free-flooded rings are efficient transducers, performing well at both
transmitting and receiving, and can be assembled as an array to boost transmit
power and/or increase directivity. Mounting options and connector types can be
modified to meet customer requirements. Contact us to discuss your specific
requirements.