33 KHZ SPHERICAL TRANSDUCER
SX149 Spherical Transducer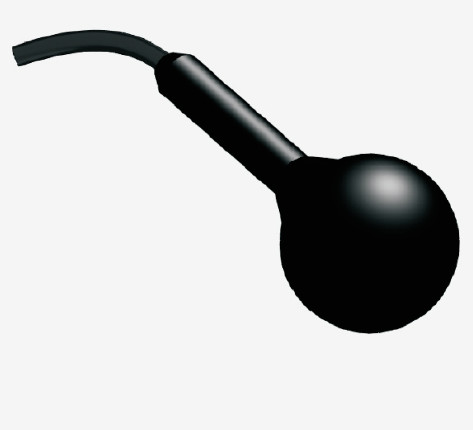 | | |
| --- | --- |
| TRANSMIT SENSITIVITY | 147 dB re 1 µPa/V @ 1m |
| RECEIVE SENSITIVITY | -195 dB re 1 V/µPa @ 20°C |
| RESONANCE FREQUENCY | 32 kHz |
| CAPACITANCE | 32 nF ± 15% @ 20ºC |
| OPERATING DEPTH | 1250m |
TRANSMIT VOLTAGE RESPONSE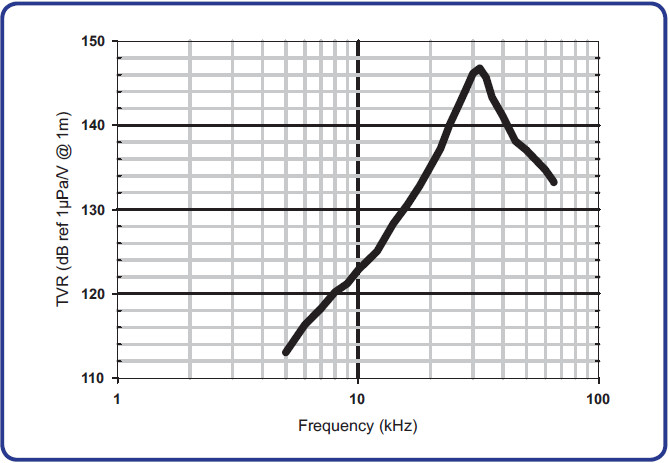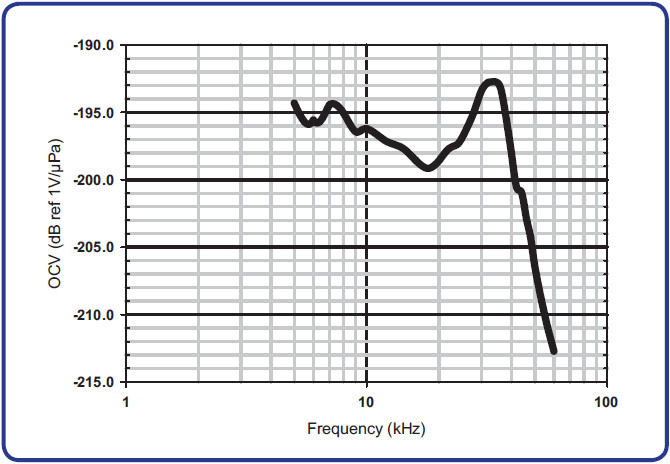 BEAM PATTERN RADIAL PLANE at 10kHz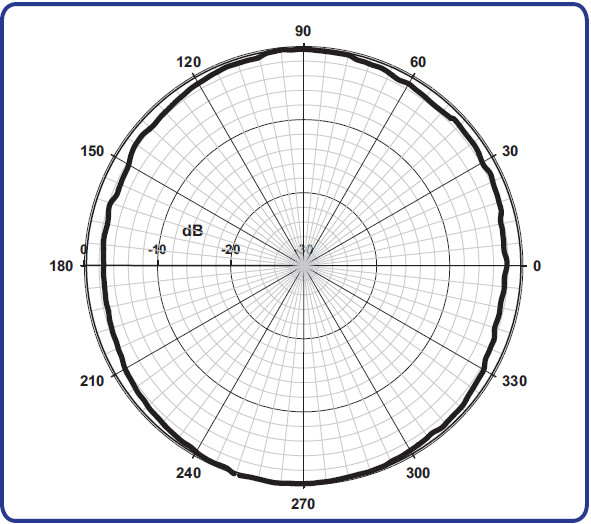 RESONANCE FREQUENCY
33 kHz
---
BEAM ANGLE RADIAL 3DB AT FR
Omnidirectional (Spherical)
---
BEAM ANGLE AXIAL 3DB AT FR
Omnidirectional (Spherical)
---
DEPTH RATING
1250 m
---
TRANSMIT VOLTAGE RESPONSE TVR
149 dB re 1 µPa/V @ 1m
The SX149-00 transducer is made with a piezoelectric ceramic sphere and is
comparable to the ITC-1032. The piezo element offers omnidirectional transmit
capability at a 32 kHz resonance and a broadband receive capability from 1 – 50 kHz.
The SX149-00 can be wired in series and custom preamps are also available to
increase receive sensitivity. Piezo spheres are mechanically robust, allowing good
depth ratings and better tolerances against mechanical shock. Mounting options and
connector types can be modified to meet customer requirements. Contact us to discuss your specific requirements for a spherical transducer.