Collingwood, Ont., May 5, 2018 • Sensor Technology Ltd. is excited to announce our expansion into Atlantic Canada in May 2018 by joining COVE. COVE, the Centre for Ocean Ventures and Entrepreneurship, is a dynamic and collaborative community for the Oceans Technology Industry in Canada, and is a great fit for Sensor Technology. The vision and mission of Cove fits perfectly with our desire to advance our innovative thought leadership in the Ocean Tech Industry in Canada, as well as  strengthen our connection and relationships with our clients and greater community in Atlantic Canada.
As Niru Somayajula, President and CEO of Sensor Technology said: "We at Sensor Technology are really excited to be joining the team at COVE. I am thrilled to be a part of this dynamic environment, and this will be a key driver for our business relationships in the Atlantic Region. I am looking forward to making this mutually beneficial relationship in this growing market."
With over 35 years as a leading Piezoceramic manufacturer and designer in the Ocean Technology Industry, this relationship with COVE is a great strategic fit for Sensor Technology, and we look forward to growing together with COVE.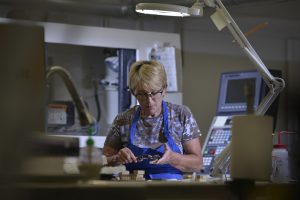 About Sensor Technology Ltd.
Sensor Technology Ltd. provides piezoelectric solutions to companies around the globe. SensorTech has been designing and manufacturing piezoelectric ceramic materials,
custom acoustic transducers, and hydrophones in Collingwood, Ont., since 1983.