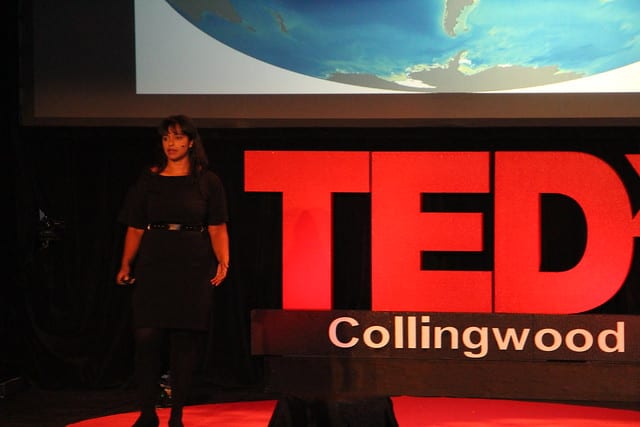 During the 2019 TEDxCollingwood event, Sensor Tech's President & CEO, Niru Somayajula, gave a presentation addressing the current state of oceanic exploration and the methods available for future exploration. As society is able to collect more accurate data, that information can help shape the way we manage ocean resources, navigate natural disasters, and discover new sources of food and energy.
TEDxCollingwood
TEDxCollingwood, created in 2017, is an independently organized TED event. The original TED conference began in 1984 as a way to explore different aspects of technology, entertainment, and design. Today, TED continues to host insightful talks, music, and performances from experts and artists around the globe. Given Sensor Tech's early history as an offshoot of Blue Mountain Pottery, speaking at TEDxCollingwood was a natural way to showcase the 
Why the Ocean is Our Future, But We Don't Know Anything About It
During her October 17th TED talk, Niru dove into the question of why we know more about Mars than we do about our own ocean. Part of the trouble is that the ocean presents a variety of challenges, ranging from both technical challenges to physical risks.
The average depth of the ocean is 3,800 meters. Any manned or autonomous underwater vehicle (AUV) exploring at this depth must, therefore, be able to withstand a minimum of 5,554.69 psi. Given that only 500 psi is sufficient to crush a car, this presents an understandable challenge.
However, Niru pointed out that, through the use and utilization of piezoelectric ceramics, more thorough and safe exploration in the future is a tangible goal.
Ocean Innovations
Piezoelectric ceramics can be beneficial for a range of industries, from fishing to actively tracking certain species, as exemplified by Ocearch's truly impressive marine animal database. The main goal of the oceanic industry at present is to gather more data. In her talk, Niru reviewed some of the latest innovations currently in production and under development for ocean exploration. 
About Niru Somayajula
Niru Somayalula has been the President & CEO of Sensor Technology Ltd. since 2011. She is currently working to quadruple the size of Sensor Tech by 2025 and exploring the possibility of a manufacturing expansion into Atlantic Canada. Niru holds a BA in GeoPhysics and an MA in Mechanical Engineering. She's passionate about cooking and photography and is training to become a triathlete.